INDEPENDENT BONN INTERNATIONAL SCHOOL e.V.
For children aged 3 to 13
Tulpenbaumweg 42
53177 Bonn
Our School
Enthusiasm about learning in a place of security
Since 1963, our international community has helped young people from over 38 nations to develop into responsible global citizens, unencumbered by dividing prejudices, views or beliefs.
We are an Ersatzschule
We are a private, state-approved substitute (Ersatzschule) school for the primary level and offer education for children from 3 to 13 years of age. Everything we do is designed to ensure a seamless transition to both secondary German or international schools.
We are international
Over 38 nationalities are represented at our school. The range of backgrounds that has always been a cornerstone of school life, alongside our common values, makes our environment unique. 
IBIS students are proudly taught that they can go anywhere and do anything, regardless of where they came from.
School of Friendship
We are a friendly environment, where a great deal of emphasis is placed on relationship building and the importance of warm social ties. Aside from the fact that happy students are more effective students, we also believe that children have an intrinsic right to happiness, security and all of the other benefits of friendship. 
New students are welcome, whenever they arrive, and will soon benefit from the school-wide culture of acceptance and an out-reached hand.
We are a family
Our community makes us stronger. Just like any family, there is always someone to help, inspire and offer security when it is needed. Attachments are formed at IBIS that help students take more risks, safe in the knowledge that the school community is behind them and always will be.
Excellence in Education
We want to give every student the means to achieve their potential, and to leave our school a resilient and independent learner. Everything that we do as educators, from the curricula and culture of achievement through to communication with parents and staff training, is designed to provide a platform of excellence to our students.
Welcome to our school!
IBIS is a happy school, where children are taught in small classes by inspirational teachers, and it is my pleasure to introduce you to it.
We are proud of our identity, which is rooted in kindness, international mindedness, curiosity and the ability to speak and understand both English and German.
This identity underpins our work, as we help our students to understand that there are no limits to what is possible and that all doors are open to them, now and in the future.
For parents, our doors are always open to you, too, with the assurance we will be at your side every step of the way.
I encourage you to arrange a tour and find out what makes this such a special school.  I look forward to meeting you!
Tara O'Shea
Headteacher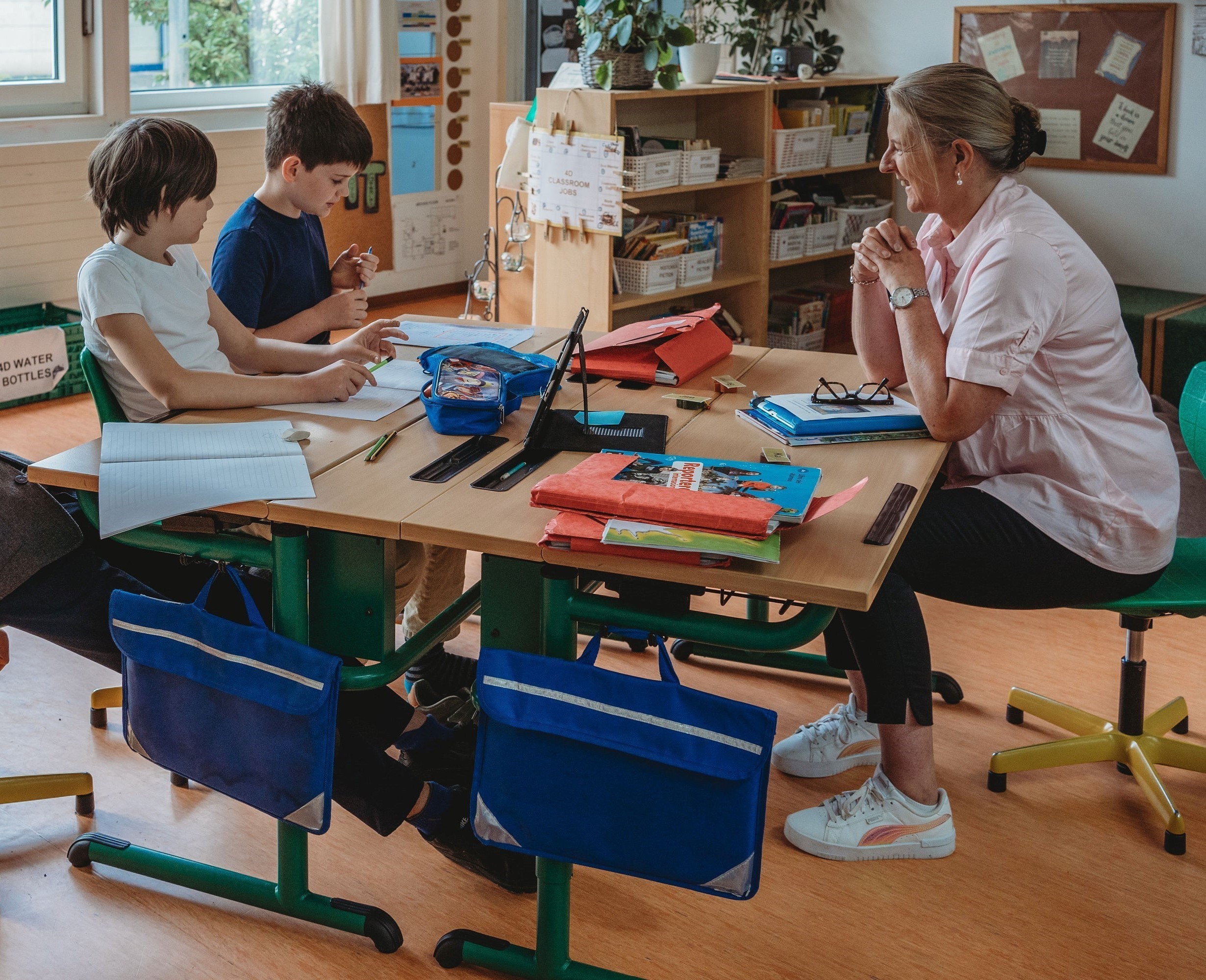 Lunch is delivered fresh every day by a local catering company, Lehmanns, and currently costs €3.65 per meal. Students can choose between two options every day, each of which always includes a fresh salad and dessert. The school is nut free, this includes lunches provided by Lehmanns.
Students who have not ordered a hot lunch can bring a packed lunch. As drinks are not included, all children should bring a drink with them for lunch and snack time, but no carbonated drinks or glass bottles!
In our Kindergarten and Reception classes, day begins at 8:40 and ends at 15:00, or at 12:00 for a half day place in Kindergarten. School for classes from Year 1 to Year 6 takes place from Monday to Friday from 8:40 until 15:20. Years 7 and 8 begin their day at 8:30 and finish at 15:20.
Lunch and breaks are staggered to allow everyone a chance to eat and play calmly. Lunch starts from 12:00 and lasts till 13:10. Pupils can take advantage of our Hot Lunch Programme or bring their own packed lunch.
Timing of school day
Monday – Friday
Early years
8:40-12:00 (half day) or 8:40–15:00 (full day)
Early years to Year 6
8:40-15:20
Year 7/8
8:30-15:20
Pre-school supervision is available from
8:00-8:40
After School Activities are available from
15:30-17:30, and until 16:30 on Fridays.
School uniform is compulsory, and we are happy to explain why: a school uniform fosters a strong sense of community and shared purpose among our students, while ensuring that wearing the 'right' or 'wrong' clothes and brands never becomes an issue.
Our school uniform is provided by DRESS FOR SCHOOL, a leading supplier of high quality uniforms.
Being a non-profit organisation means that, in contrast to a for-profit school, every cent we receive goes directly toward improving our school. This translates to high quality learning materials for pupils, training for staff and better school facilities.
While we have a duty to be fiscally responsible, our focus is on providing the best for our students. We are convinced that being able to teach and improve without profit in mind is an important contributor toward our happy atmosphere.
For more information about how our school is structured, please read here.
Don't take our word for it, come and see for yourself and find out what makes I.B.I.S. unique.
With a prearranged visit, our head teacher will be happy to show your family around and answer any questions you might have about our school.
Phone +49 228 323166
Mail ibis@ibis-school.com
Extra-curricular activities
Contact
We are here to help! For general questions, or to arrange a tour with our head teacher, please contact us
Phone +49 (0) 228 323166
or-email: ibis@ibis-school.com
For our current parents, for specific questions about a class or student, please in the first instance get in touch with your class teacher.
"Educated side by side, untroubled from infancy by divisive prejudices, acquainted with all that is great and good in the different cultures, it will be borne in upon them as they mature that they belong together. Without ceasing to look to their own lands with love and pride, they will become in mind citizens of the world, schooled and ready to complete and consolidate the work of generations before them, bringing into being a thriving global community."
Jean Monnets, "The Father of Europe" (1888–1979)